Club News
Look out for your 2021 membership card...
---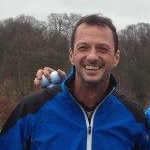 Tim Barnes
Golf Shop Professionals Hartford Golf Club
Thank you to all of the members who have rejoined or recently joined as a new member for the 2021 season, we have now started distributing new membership cards and loyalty 'goody packs' and many of you will already have received them, just to explain the card colours:
- A green card is given to dual full members
- A gold card is given to full members just here at Hartford
- A white card is for the flexi-members (if you're a flexi member you should already have this card)
The idea of the new membership cards is primarily to show you are a member when reporting in for a game here or at Pryors Hayes but an added benefit of the new card system is that it can be used in the bar, if you get your membership card 'swiped' when paying you will get a discount on bar drinks and food, you can also add money to the card so it can be used to pay for drinks or food if you don't have money on you (assuming you have credit on the card). To add bar credit to your membership card just see a member of the bar staff to do so.
Please note that your 'shop account' and any credit on that account CANNOT be used in the bar and vice-versa, the card system isn't set up to be transferable between the shop and bar so many of you will have a shop account and also credit on your membership card (when you add it in the bar) which can only be spent in the bar.
Any member with a green or gold card will also now have a new 5 digit membership number, we have had to issue new numbers so the membership numbers don't clash with Pryors Hayes and therefore dual members should now be able to register on BRS to book a tee time online for Hartford here and also at Pryors Hayes here, many of you will agree this is a welcome relief!
If you are registered to book tee-times online on the BRS system you will have to update your account to your new membership number (which is your username) and you will have to reset your password, if you have any problems doing this please ask us in the shop and we can assist.
And we will continue to issue new membership cards as we see you in the shop, if you have any questions please get in touch and here's to a long and (God willing) uninterrupted summer of golf!!!