Club News
Alan Rose blooms in the Midweek Medal!
---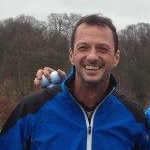 Tim Barnes
1 Hartford Golf Club
There was a fine round from Alan Rose in last Wednesday's Mid-week Medal, an incredibly steady round of 15 pars and just 3 bogeys for the 10 handicapper gave Alan an unassailable score of nett 63 and a first competition victory here at Hartford.
Alan's reward for his storming round is a new handicap index of 8.2 and he achieved a convincing win as the next best score on the day was a battling round of nett 69 from Dan Griffiths who finished with back to back pars, after Dan also finished second in the weekend's Masters competition this was two runner-up places in a row for unlucky Dan!
Dave Britton completed the top three with nett 69.
It's worth noting that there were no twos scored so when we play the October Mid-week medal on Wednesday 20th October it will be a bumper rollover twos pool with £70 already in the pot!