Shop News
Some hot new Autumn clothing in store now....
---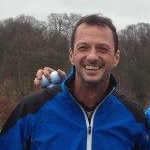 Tim Barnes
1 Hartford Golf Club
Although this September has been nice and sunny we can't ignore the fact that Autumn is on it's way and temperatures will start to droop - this doesn't have to mean the end of your golf though!
You just need the right layers and outerwear to get you through the Autumn and Winter out on the golf course, we have new collections in store from adidas, Under Armour, Oscar Jacobson, with ProQuip waterproofs also in and FootJoy soon to arrive.
From waterproofs to gilets and hoodies, and from snoods through to mittens and thermal hats - we have plenty in store that will make your golf more enjoyable no matter what the weather throws at you.
Have a look at some of the images of the latest arrivals and make sure you call in soon to have a proper look at these eye-catching new collections...