Club News
Dave's hot start to the winter!
---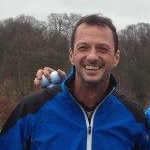 Tim Barnes
1 Hartford Golf Club
Dave Tranter had a strong end to the summer season and he made a good job of continuing this steady form into the winter season, he won the first round of the seniors Winter League with 20 points including a birdie two on the second hole.
Peter Hargreaves was runner up with 19 points and third place went to Tony Ravenscroft on 18 points.
This Tuesday the seniors played a team match against our friendly rivals Pryors Hayes, with 6 matches played the final score was 3.5 to 2.5 to team Hartford.