Club News
The Moore points the merrier for Paul!
---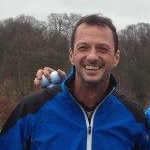 Tim Barnes
1 Hartford Golf Club
As we always do in the Winter season, the monthly weekend Medal was played as a Stableford and with winter rules now in place and weather conditions still being pretty favourable for the time of year - there were unsurprisingly some bumper scores on Saturday!
Winner was Paul Moore with a whopping 45 points, Paul was out in the first group of the day but he set a standard that none of the later starters could match. After a string of improving results this was Paul's first competition victory and he did it in style with pars on the tricky third hole both times round yielding him 8 of his points in an impressive haul.
Paul was the victor in division two and the top four players on the day were all playing in division two, Julie Daines was runner up with 43 points just ahead of Justin Hyam who also returned 43 points whilst Neil Dunning showed he can play this course well (despite what he says!) with 42 points score.
Division one honours went to one half of last week's winning Winter League partnership - Matt Jamieson with 41 points, including a scintillating 24 points on the back nine! Andie Fraser and Paul Underwood were just a point further back.
21 out of 51 players (41% of the field) scored 36 points or better and there were 10 two's scored on a day of high points scoring!
This Saturday we play the 3 club challenge, and as the name says on the tin - you are only permitted to use three clubs in your round and one of those MUST be a putter, again the format is Stableford - let's see how the clubs limitation affects the scoring!